Launched in April 2021, Xinú Tulum is a collaboration between Tulum Treehouse and Xinú, a Mexico City perfumery founded by designer Ignacio Cadena, olfactory director Verónica Peña and influential multidisciplinary designer Héctor Esrawe. 
"Our shared desire to honor the landscape and reinterpret traditional Mexican artisanship through a contemporary aesthetic lens made Xinú and Tulum Treehouse natural collaborators."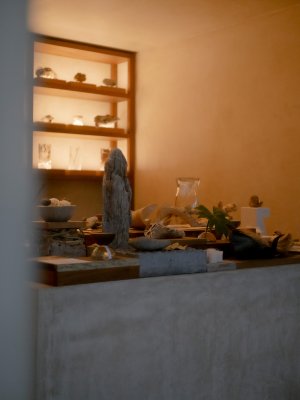 About the Project
Xinú means "nose" in the indigenous Mexican language, Otomi, and the perfumery taps into a deep well of sensorial heritage in devising its assemblage of fragrances, from "Aguamadera," featuring agave, green lime, guaiac and cedar woods, to "Ummo," with notes of tobacco, styrax shrub, tonka bean and juniper.
The brand's fourth shop in Mexico, Xinú Tulum features a range of botanical products that draw inspiration from the aromatic biodiversity of the Americas, displayed between found objects and natural specimen sourced in the surrounding Yucatán jungle. In addition to the street-facing shop, Xinú is curating botanicals across Tulum Treehouse, from unique food and drink menus to skincare and bathing products.
"The collaboration with Xinú has allowed us to create new delicious and interesting cocktails that let our guests really taste the jungle and the aromatic plants for which this area is so well known."
Meditations on slowness through photography, film, art and original reportage.
Latest Stories
Contact
Berlin
Zur alten Flußbadeanstalt 1
10317 Berlin, Germany
003468950988
LISBON
Rua Dom Francisco de Melo 15
1070-085 Lisbon, Portugal
00368870043
GENERAL inquiries
inquiries@slowness.com
PRESS & PARNTERSHIP
press@slowness.com
Reservations
reservations@slowness.com
CONTACT
hello@slowness.com