The Prologue
Slowness has been quietly unfolding since the creation in 2016 of La Granja Ibiza. The transformation of a dormant agricultural plot into a working farmstead devoted to discourse around food set the stage for a new kind of hospitality concept. We began to assemble a community of designers, farmers, writers, artists, artisans and architects whose work engages with slowness toward a resetting of values.
CALENDAR

Flussbad launches in September 2023 with a diverse artistic program at the Reethaus. Mesmeric, intimate and experimental, performances at the Reethaus reach out of everyday reality and into an elevated, contemplative plane.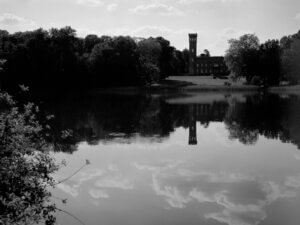 PLACES
Drawing on the insights of the slow movement, adaptive reuse, and regenerative agriculture, we build and nourish locally rooted places that offer a deeper, more conscious form of hospitality. Our places offer not a "pit stop" away from the hectic pace of daily life but a continuous journey of reconnection, of learning to live in harmony with nature, our community and ourselves.
"Consider this utterly commonplace situation: a man is walking down the street. At a certain moment, he tries to recall something, but the recollection escapes him. Automatically, he slows down. Meanwhile, a person who wants to forget a disagreeable incident he has just lived through starts unconsciously to speed up his pace, as if he were trying to distance himself from a thing still too close to him in time. In existential mathematics, that experience takes the form of two basic equations: the degree of slowness is directly proportional to the intensity of memory; the degree of speed is directly proportional to the intensity of forgetting."
To be slow is not merely to decrease the pace of life. It's about taking the time to reconsider our actions and think more deeply and responsibly about how we live. We want to nourish ourselves on what Thoreau called "the tonic of wildness" and live evermore in the moment so that we can inhabit an existence that is "more elastic, more starry, more immortal." Or in the words of Rachel Carson, the mother of the green movement: "One way to open your eyes is to ask yourself, 'What if I had never seen this before? What if I knew I would never see it again?'"
Contact
Berlin
Zur alten Flußbadeanstalt 1
10317 Berlin, Germany
003468950988
LISBON
Rua Dom Francisco de Melo 15
1070-085 Lisbon, Portugal
00368870043
GENERAL inquiries
inquiries@slowness.com
PRESS & PARNTERSHIP
press@slowness.com
Reservations
reservations@slowness.com
CONTACT
hello@slowness.com