Located in a restored 19th-century brick factory building in Berlin's Mitte district, Sofi sets out to recover the true flavors of ancient grains through its commitment to honest, low-intervention craft baking.
Sophie-Gips-Höfe
Sophienstrasse 21, 10178 Berlin
M-F

7:30am - 6:30pm

S-S

8:30am - 5:30pm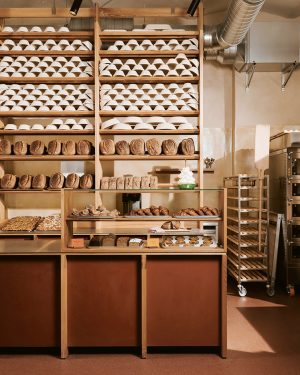 The Bakery
Conceived in collaboration with Danish chef and restaurateur Frederik Bille Brahe, Sofi embraces the craft tradition of baking on a quest to right some of the wrongs of industrialized food production. Beginning with grains sourced from some of the best small organic farmers in Northern Europe, Sofi's bakers work to recover and preserve the true flavors of these ancient grains, from the wild, piquant flavors of Emmer to squishy champagne rye. With experience in some of the world's top bakeries and kitchens, Sofi's small international team of young bakers works by day in an open-plan production site at the heart of the bakery, where visitors can watch them rolling out dough and working the ovens.
"We are applying some of the insights of the slow movement—the emphasis on craft, origin, materials, process—to the art of breadmaking. A lot of people don't understand that soil is as important for grain as it is for wine."
The Bread
Alongside three rotating bread varieties—a box-fermented, mixed-wheat Berliner Loaf, a rotating Daily Loaf and a Danish-inflected Rugbrød—Sofi offers a selection of loaf cakes, cookies and pastries. These range from flaky cardamon-orange Morning Buns to the Handwerker, a typical Danish cheese bun with whipped butter, as well as chocolate sourdough cake, twice-baked croissants and fresh baked Italian focaccia. Batch-brew coffee, artisanal tea, freshly pressed juice and kombuchas are sourced locally from small manufacturers. Over time, the menu will grow to include breakfast dishes as well as a staff meal-inspired vegetarian lunch from the bread oven. More than a bakery, Sofi aims to be a community hub and a supplier of fresh bread to a selection of Berlin restaurants.
"We want Sofi to be a gift to this neighborhood, a place that people will take into their hearts. And most importantly, we want to supply people with really delicious bread."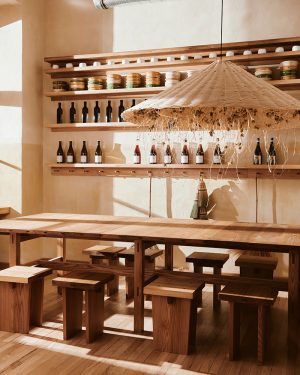 Design Concept
Sofi's interior was designed by Danish architects Mathias Mentze and Alexander Vedel Ottensten in collaboration with Dreimeta. The vinyl red floor and delicate yellow-hued walls recall the colors of the courtyard, while the bespoke furnishings of solid elm wood with walnut detailing include larger pieces such as an oversized bread rack and communal table and smaller, movable items including stools and benches that were crafted by Rammelisten, a small woodwork studio based just north of Copenhagen.
Colorful glazed ceramics by Studio X, hand-crafted cups by Danish artist Kasper Hesselbjerg, vintage cutlery and a flower collaboration with artist Danh Vo underline the architect duo's detail-oriented approach. A shelf separating the bakery and guest areas displays a range of the team's favorite products for guests to take home: ceramics, coffee, tea, natural wines and flour from the Danish Kørnby mill.
Meditations on slowness through photography, film, art and original reportage.
Latest Stories
Contact
Berlin
Zur alten Flußbadeanstalt 1
10317 Berlin, Germany
003468950988
LISBON
Rua Dom Francisco de Melo 15
1070-085 Lisbon, Portugal
00368870043
GENERAL inquiries
inquiries@slowness.com
PRESS & PARNTERSHIP
press@slowness.com
Reservations
reservations@slowness.com
CONTACT
hello@slowness.com