Launched in Portugal in 2021, Friends of a Farmer is an initiative to regenerate our soil, awaken the farm and cultivate a community.
"Conventional agribusinesses are polluting our land, degrading our soils and harming our planet. Our farm offers a conscious alternative. We see the farm as a whole living system and treat our soil as the essential ingredient to our nutrient-rich food, helping to mitigate the leading contributor to climate change and offering our friends real food that they can trust."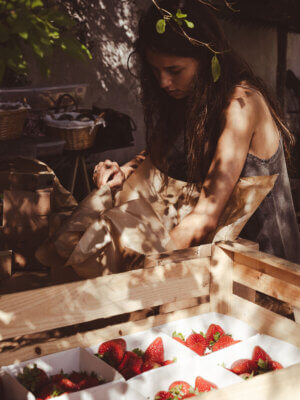 ABOUT THE PROJECT
A true Community Supported Agriculture project, Friends of a Farmer reflects a mutual commitment between farmer and consumer to support regenerative, small-scale agriculture, allowing us to thoughtfully grow high-quality, seasonal and organic produce without waste. Led by Slow's master famer Andy Szymanowicz, it includes a weekly subscription farm box brimming with farm-fresh organic vegetables and flowers, all harvested directly from our fields in Meco, as well as community programming on and around the farm.
To celebrate the beginning of our harvest each year, we hold a farmer's market in the Graça neighborhood of Lisbon, where we share our own crops, all grown without the use of chemicals and pesticides, as well as local and artisanal products from the region. Our wish is to foster a strong bond between our community, the farm and the local producers—to build a farm with you.
"We feel the bonds of the community that step by step our farm starts to create, from workshops and visits to each week's boxes filled with our best vegetables, to every simple conversation. The seeds are being planted, and they are starting to germinate."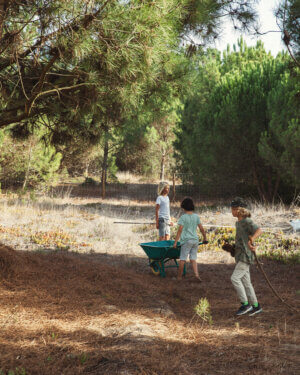 THE KNOWLEDGE COMMUNITY
Each weekly farm box includes a newsletter with insights into the growing process, nutritional information about our weekly offerings, best practices for storage, handling and preparation and recipe suggestions to help you make the best use out of the week's harvest. In addition, we lead tours on the land and monthly educational workshops, from wild orchid spotting to guided tomato harvests, bringing our community into direct contact with the farmers and educating them about regenerative farming, ecosystem restoration, nutrition and holistic health.
Meditations on slowness through photography, film, art and original reportage.
Latest Stories
Contact
Berlin
Zur alten Flußbadeanstalt 1
10317 Berlin, Germany
003468950988
LISBON
Rua Dom Francisco de Melo 15
1070-085 Lisbon, Portugal
00368870043
GENERAL inquiries
inquiries@slowness.com
PRESS & PARNTERSHIP
press@slowness.com
Reservations
reservations@slowness.com
CONTACT
hello@slowness.com