encyclopedia of the farm
A Vegetative Deep Dive
into the Inner Workings of La Granja Ibiza
Days at La Granja start early, when the gardens hang in mist and the cool dawn air fills with birdsong and the chirping of insects. Soon the farmers arrive. They feed the chickens and a fat brown Iberian hog named Coco. As the sun rises over the pinewoods and aromatic fruit trees of Ibiza's wild north, the farmers begin to harvest the crops that will wind up in La Granja's kitchen, where morning preparations are already underway.
Since opening five years ago, La Granja, a 10-hectare biodynamic farmstead anchored by an 18th-century stone house, has become a polestar for a new and growing movement on the Balearic island. Nodding to Ibiza's authentic hippie heritage and locally rooted vision of a greener, slower future, today's La Granja is a laid-back agroturismo project that also functions as a platform for discourse on farming, sustainability and our relationship with the food we eat.
But the best way to understand La Granja is to begin, quite literally, at the roots. We followed a selection of crops as they made their way from soil to sustenance in a highly sustainable, zero-waste process presented by the farmers, cooks, critters and creative minds who make the farm what it is today.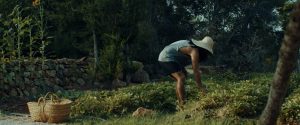 Probably originated in Persia
Harvested in late spring and fall
Rich in nutrients thought to lower cholesterol and improve eye health
Harvested in late spring and fall
Probably originated in Persia
Rich in nutrients thought to lower cholesterol and improve eye health
Rich in nutrients thought to lower cholesterol and improve eye health
Harvested in late spring and fall
Probably originated in Persia
Probably originated in Persia
Harvested in late spring and fall
Rich in nutrients thought to lower cholesterol and improve eye health
Harvested in late spring and fall
Probably originated in Persia
Rich in nutrients thought to lower cholesterol and improve eye health
Rich in nutrients thought to lower cholesterol and improve eye health
Harvested in late spring and fall
Probably originated in Persia
Probably originated in Persia
Harvested in late spring and fall
Rich in nutrients thought to lower cholesterol and improve eye health
Harvested in late spring and fall
Probably originated in Persia
Rich in nutrients thought to lower cholesterol and improve eye health
Rich in nutrients thought to lower cholesterol and improve eye health
Harvested in late spring and fall
Probably originated in Persia
Writer

Charly Wilder

Directors

Studio Airport

Camera Operators

Luuk de Kok & Mischa van Schajik

Producers

Lawrence Hazen & Hanna Thalén
Contact
Berlin
Zur alten Flußbadeanstalt 1
10317 Berlin, Germany
003468950988
LISBON
Rua Dom Francisco de Melo 15
1070-085 Lisbon, Portugal
00368870043
GENERAL inquiries
inquiries@slowness.com
PRESS & PARNTERSHIP
press@slowness.com
Reservations
reservations@slowness.com
CONTACT
hello@slowness.com