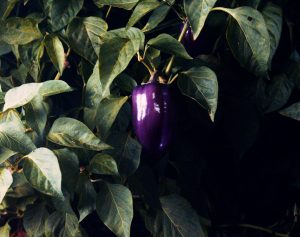 Pepper
One of the easier crops to cultivate, the peppers at La Granja range widely in size, color and texture. "We have many types of them," said Oscar. "Really nice ones. We have one from here, from Ibiza, that is the purple one. The flavor is very similar, but it's a little bit softer. And then the Italian one is long, because you know, the normal pepper is a little bit fat."
Although the antioxidant-rich peppers are relatively low maintenance, Oscar still considers himself devoted. "To care for plants is like, for a moment you forget about yourself and you have to pay attention to something else," he said. "I treat all my plants like my babies. Just to see them grow makes me happy."
"To have plants is like, for a moment you forget about yourself and you have to pay attention to something else," Oscar added. "For a moment, you say, well, I don't care, I'm gonna give my love and my attention to my babies, because they need me."
01
Bell peppers are native to Mexico, Central America, and northern South America. The seeds were imported to Spain in 1493 and then spread through Europe and Asia.
02
The name pepper was given by Europeans when Christopher Columbus brought the plant back to Europe. Like the tomato and eggplant, the bell pepper is a botanical fruit used in the kitchen as a vegetable.
03
Bell peppers are rich in many vitamins and antioxidants, especially vitamin C and various carotenoids. A single bell pepper provides up to 169% of the daily recommended value.
04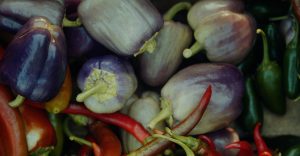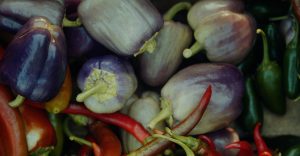 Other vitamins and minerals in bell peppers include vitamin K1, vitamin E, vitamin A, folate, and potassium.
05
"I find a lot of our guests walk through the garden every morning and they see the farmers picking the plants and bringing it to the kitchen and just by osmosis they start picking up the idea of the possibilities of either growing your own food or looking for people that are growing in your region," said Andy.
06
Andy added: "When it comes right from the field right to the kitchen within minutes and then to your plate, there's no substitute for that."
07
The peppers are picked, washed and then most often put into the open-air oven to be roasted until they char on the outside and taste smokey, sweet within, to be served with a bit of salt as part of the Farmers Table.
08
"We have a meeting with the gardeners every Monday," says Eduardo. "So we know more or less how much of the product we can get in the week. We plan the crops months ahead."
09
But, he adds, "we need to be very flexible because one week it rains a bit too much and the peppers are less than the week before, these kinds of little things."
Contact
Berlin
Zur alten Flußbadeanstalt 1
10317 Berlin, Germany
003468950988
LISBON
Rua Dom Francisco de Melo 15
1070-085 Lisbon, Portugal
00368870043
GENERAL inquiries
inquiries@slowness.com
PRESS & PARNTERSHIP
press@slowness.com
Reservations
reservations@slowness.com
CONTACT
hello@slowness.com