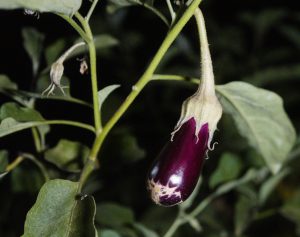 Eggplant
"We specialize in growing the Asian varieties of eggplants," said farmer Andy, one of which—a beautiful slender purple variety called Fairy Tale—inspired what is now one of La Granja's signature dishes. "I don't like to change these kinds of amazing products too much," said Eduardo Fiaschi, a Tuscan-born chef Noma alum who cooked his way from Italy to Copenhagen to Tulum Treehouse with interim stints in India and Morocco before joining Jose Catrimán at the helm of La Granja's Kitchen in 2020.
The barbecued eggplant is served whole in a vegan demi-glace made with mushrooms and seaweed, a very simple preparation that highlights the natural taste of the produce.
"The idea is to keep the flavors simple, which for me, simple is not simple. It's not easy, like the opposite," said Eduardo. "It's easier in the kitchen to put so many tastes together and confuse the people than keep something very straightforward."
"This eggplant that we're growing, you can see it in the garden there if you go around before dinner," he continued. "We processed it not too much, so you can feel what we've been doing even before the harvesting. That's kind of what we try to do with everything that we get from the garden."
01
Eggplants depend entirely on pollination by wild bees. Natural bee habits must be maintained near the plant's cultivation in order for it to produce fruit.
02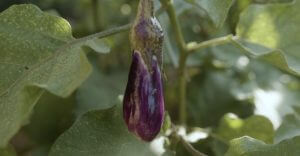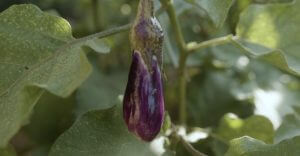 Cultivated in southern and eastern Asia since prehistory, eggplants are believed to have originated in India or Africa. They are botanically classified as a berry but used as a vegetable in cooking.
03
The eggplant is especially rich in anthocyanins, a type of pigment with antioxidant properties that's responsible for its vibrant color. Its numerous small, soft, edible seeds taste bitter because they contain nicotinoid alkaloids, like the related tobacco plant.
04
The first known written record of the plant is found in Qimin Yaoshu, an ancient Chinese agricultural treatise completed in 544 C.E. It was grown throughout the Mediterranean by the Arabs in the early Middle Ages, who later introduced it to Spain.
05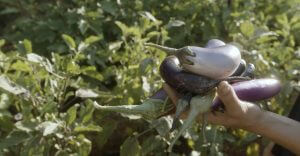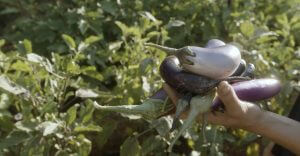 The eggplant has a special place in folklore. In 13th-century Italy it was thought to cause madness, and in 19th-century Egypt, insanity was said to be "more common and more violent" when the eggplant is in season in the summer.
06
"With the eggplant, we just char it in the barbecue until it's completely burned outside," said Eduardo. "We peel it, and this way we take out all the bitterness, because it stays in the skin, and gives to the flesh the smokiness from the barbecue. They steam inside their skin."
07
"Then we serve it with a vegetarian demi-glace, which is a kind of stock of dry mushrooms, dry seaweed. We boil them until we get to a very reduced, I would say demi-glace. It's super-rich, full of taste and like umami," he said, referring to the Japanese term usually translated as savoriness, considered one of the five basic tastes (along with sweetness, sourness, bitterness and saltiness).
08
"People who come here, vegan people especially, they say, 'I can't believe this doesn't have any kind of meat in it, because the taste is amazing," said chef José. "Actually, we start to use it in other dishes. It's like a gravy sauce. Wow. Super delicious. All the people are shocked."
09
José continued: "We serve only this kind of teeny aubergine covered with this black sauce and some pumpkin seeds on top as a starter and the people ask, what is that? It's a sausage? No, it's aubergine. Aubergine? They can't believe it."
Contact
Berlin
Zur alten Flußbadeanstalt 1
10317 Berlin, Germany
003468950988
LISBON
Rua Dom Francisco de Melo 15
1070-085 Lisbon, Portugal
00368870043
GENERAL inquiries
inquiries@slowness.com
PRESS & PARNTERSHIP
press@slowness.com
Reservations
reservations@slowness.com
CONTACT
hello@slowness.com