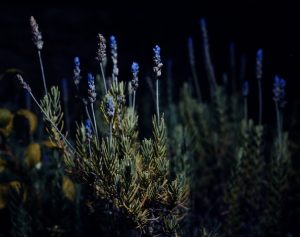 Lavender
When it comes to Ibizan herbs and their healing properties, there's no better person to speak to than Irene Apolo, who has studied local plant medicine and rituals on the island for 25 years and was the first person to create a botanical product line on the island through her company, Laire. She uses La Granja's growth of lavender, which is believed to have antiseptic and anti-inflammatory properties, as well as other medicinal herbs and plants, to create an insect repellent that's distributed to La Granja's guests.
"It's such a beautiful place on the island, because La Granja not only cultivates fruits and vegetables that give nutrition and flavor, but also aromatic and medicinal plants," she said. "It's also a garden of medicine."
Irene first began studying the medicinal properties when she had a health problem for which doctors told her she would need to medicate for the rest of her life. She knew that there were all these old wise women in southern Spain who know a lot about plants and their properties, so she decided to investigate.
"This was 25 years ago, so there was no internet," said Irena. "I had to talk to all these old women and investigate for myself. They started taking me to the countryside to find herbs. I realized they are amazing. All the medicine is in the plants, and I was healthy again in three months."
01
Lavender is believed to have antiseptic and anti-inflammatory properties, which can help to heal minor burns and bug bites. Research suggests that its essential oil may be useful for treating anxiety, insomnia, depression, and restlessness.
02
To make the insect repellent, Irene collects the plants, picking the leaves and flowers that offer the best healing properties. In addition to lavender, she uses rosemary, which grows all over the island and is "very energetic."
03
She uses fregola, the same native wild thyme Jose uses for the Hierbas, which not only repels mosquitos but is good for "all issues related with fungus," as well as ruta, or rue, "a really powerful and magical herb on the island" that's also used for digestive issues and burned "to purify the atmosphere of bad energy."
04
For Irena, the knowledge of plants and their medicinal properties, which was passed down over millennia from generation to generation, is something that must be preserved at all costs.
05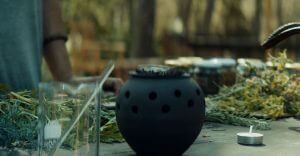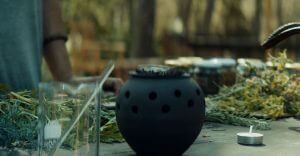 "It's very important that people have this knowledge," she says. "We're very isolated from this information today, but it's the essence of everything, plants, and we need to take care of them, because we need to also take care of ourselves."
06
Once the plants are selected and manipulated, Irena puts them into a hot pot and adds alcohol.
07
The mixture cools and after 19 to 28 days, the insect repellent is ready to use.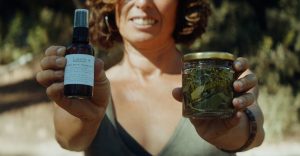 Contact
Berlin
Zur Alten Flussbadeanstalt 1
10317 Berlin, Germany
LISBON
Largo de Santa Marinha 1
1100-383 Lisbon, Portugal