Casa Noble
Lisbon, Portugal
Opening in the spring of 2023, Casa Noble is a reimagined noble house, cultural salon and urban renewal project set across three historic buildings from three different centuries in Lisbon's ancient Graça neighborhood.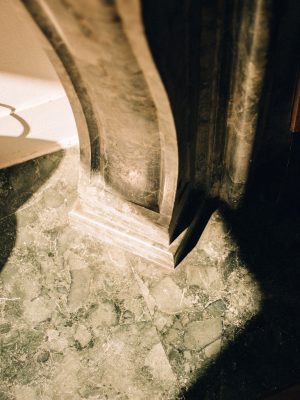 About the House
Inspired by Brazilian modernism and the architectural traditions of old Lisbon, Casa Noble comprises 13 guest rooms, a restaurant set within a tropical garden, a gathering space for guests spreads throughout three interlocking rooms with a library and open fireplace, as well a residence for longer-term visitors with a private garden and terrace. The common terrace features extraordinary views over Graça down to the Tagus river below.
As the urban hub of our Places in Portugal, Casa Noble connects with Simple, our beach house, and the coastal farmstead we're developing on the Arrábida Coast. A year-round program of curated salons brings together the creative community of Graça and neighboring Alfama, one of the oldest arts and artisan districts in Europe.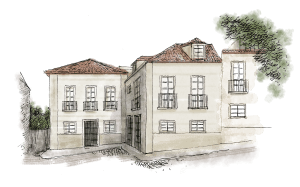 "We set out to preserve the noble character and beauty of the original 18th-century house while connecting it organically to the other two structures. The place itself has such a rich spectrum of history, magic and patina. This is the main inspiration."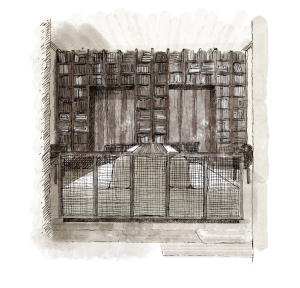 Design Concept
Three structures from the 18th, 19th and 20th centuries organically unite into a coherent whole, evoking the atmosphere of an elegant private home. Dark-wood, Brazilian modernist detailing augments the classical structure of the original 18th-century house, where the original architectural flow of interlocking salons creates space for social mixing and solitary moments of contemplation.
The heart of Casa Noble is the Library, with its open fireplace, space for intimate performance and discussion and its curated selection of books on urbanism, design, Portuguese craft and the artistic traditions of Old Lisbon. All guest rooms feature working fireplaces and views over the River Tagus or surrounding Graça, as well as bathrooms outfitted in green marble.
"In trying to define the interior, the attitude of the place, we kept referring to the name, 'Casa Noble,' which has a grandeur and a classical connotation, but there's also a humbleness. We want people to enter the atmosphere of a home and not a hotel."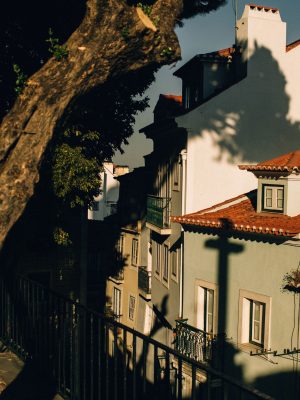 The Neighborhood
Casa Noble sits on a secluded residential square in one of Lisbon's oldest neighborhoods, Graça. Perched atop the city's highest hill, Graça offers some of Lisbon's most spectacular views. The neighborhood was once home to many noble palaces that were destroyed in the 1755 earthquake. With its organic labyrinth of hidden squares, twisting alleyways and staircases, Graça later became predominantly a workers district, also absorbing some of the artistic and cultural elements of neighboring Alfama.
"As you walk the streets of Graça and Alfama, you find these little pockets where you see bananas growing, jalapenos growing, palm trees, as if you're in the tropics. And after the earthquake, it was rebuilt with the same architects and philosophy as Santa Teresa in Rio de Janeiro, so this is what gave us the inspiration to look to Brazil."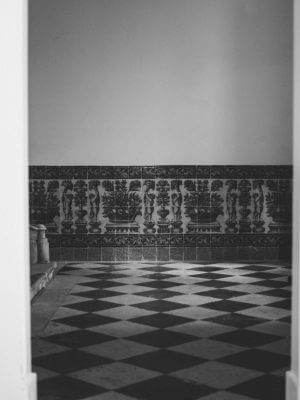 Painted tin-glazed ceramic Azulejo tiles date to the 18th century.
Cultural Program
Through a year-round program of thematically curated salons, Casa Noble hosts multidisciplinary gatherings around food, performance and ideas. Poetry readings and intimate live musical performances accompany guided discussions on diverse topics, from sustainable urban development to Portuguese artistic traditions to social topics of import to the community.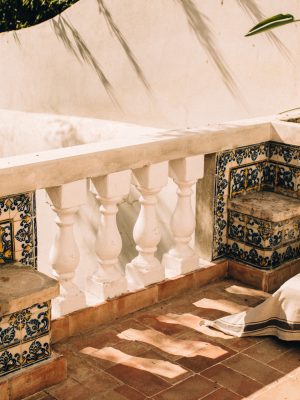 Garden Restaurant and Farm
Set within enclosed tropical gardens, our restaurant is supplied by the biodynamic gardens of Herdade do Meco, our 82-hectare clifftop farmstead an hour out of Lisbon on Portugal's Arrábida Coast. Freshly harvested seasonal organic produce and sustainably captured fish and seafood from the region guide a menu of simple, healthy cuisine inspired by Portuguese culinary traditions.
"Discovering and approaching the garden from the historic Rua da Oliveirinha feels like a magical revelation. The garden is completely enclosed by surrounding buildings and is only accessible through a stunning 'promenade architecturale'."
CALENDAR
From film screenings and live musical performances to workshops, talks and exhibitions, we curate a year-round cultural program devoted to the cultivation of arts, crops and inner gardens.
Original reportage, photography, film, illustration and other forms of immersive storytelling
Latest Stories
Contact
Berlin
Zur alten Flußbadeanstalt 1
10317 Berlin, Germany
003468950988
LISBON
Rua Dom Francisco de Melo 15
1070-085 Lisbon, Portugal
00368870043
GENERAL inquiries
inquiries@slowness.com
PRESS & PARNTERSHIP
press@slowness.com
Reservations
reservations@slowness.com
CONTACT
hello@slowness.com