Book a Table
Please fill in the details below and we'll get back to you shortly with an update regarding booking options.
Thank you, your reservation request was successful. Our reservation team will get back to you shortly. 
Casa Noble
Lisbon, Portugal
Opening in 2024, Casa Noble is a reimagined noble house, cultural salon and urban renewal project set across three historic buildings from three different centuries in Lisbon's ancient Graça neighborhood.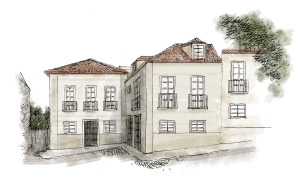 "We set out to preserve the noble character and beauty of the original 18th-century house while connecting it organically to the other two structures. The place itself has such a rich spectrum of history, magic and patina. This is the main inspiration."
"In trying to define the interior, the attitude of the place, we kept referring to the name, 'Casa Noble,' which has a grandeur and a classical connotation, but there's also a humbleness. We want people to enter the atmosphere of a home and not a hotel."
"As you walk the streets of Graça and Alfama, you find these little pockets where you see bananas growing, jalapenos growing, palm trees, as if you're in the tropics. And after the earthquake, it was rebuilt with the same architects and philosophy as Santa Teresa in Rio de Janeiro, so this is what gave us the inspiration to look to Brazil."
"Discovering and approaching the garden from the historic Rua da Oliveirinha feels like a magical revelation. The garden is completely enclosed by surrounding buildings and is only accessible through a stunning 'promenade architecturale'."
CALENDAR
From film screenings and live musical performances to workshops, talks and exhibitions, we curate a year-round cultural program devoted to the cultivation of arts, crops and inner gardens.
Meditations on slowness through photography, film, art and original reportage.
Latest Stories
Contact
Berlin
Zur alten Flußbadeanstalt 1
10317 Berlin, Germany
003468950988
LISBON
Rua Dom Francisco de Melo 15
1070-085 Lisbon, Portugal
00368870043
GENERAL inquiries
inquiries@slowness.com
PRESS & PARNTERSHIP
press@slowness.com
Reservations
reservations@slowness.com
CONTACT
hello@slowness.com