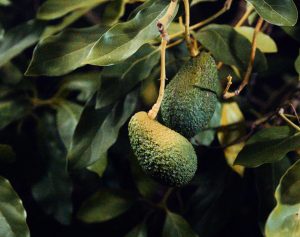 Avocado
"The plants will talk to you and they will tell you what they need," says La Granja's master farmer Andy Szymanowicz, an expert in biodynamic agriculture and lacto-fermentation who ran an influential community-supported agriculture project in his native upstate New York before moving to Ibiza to oversee La Granja's agricultural reactivation.
"It's not just building the infrastructure. It's building the soil; it's building the biodiversity; it's building the program, systems, learning about what the kitchen wants, building relationships," he says. "Building a farm is a long-term project."
The avocado trees at La Granja are, quite literally, one of the fruits of Andy's hard work. "They need pretty fertile soil, whereas olive trees can grow in poorer soil and thrive throughout the Mediterranean. Avocados need more love… They need protection from wind, but they do grow here in Ibiza," he said of the nutrient-packed fruit.
The avocados are picked according to need—either by the farmers or sometimes by the cooks themselves. "The idea is, when we need something, we can go to pick it up too, because we know what we need and how much we need it in the day," said Diego Silva, a Peruvian cook who's been working at La Granja for four years. "It's not our way to just harvest everything and not use it."
01
"Everyone uses these crops in their daily lives, but no one really knows where they're coming from," said Diego, who picks ripe avocados daily from La Granja's grove.
02
"We have six trees, five female and one male. The one male is this huge amazing avocado tree. He is like the cock of the chicken coop," said Patagonian chef José Catrimán. "You need to put the avocado next to the green apples or bananas and they will get tender very fast."
03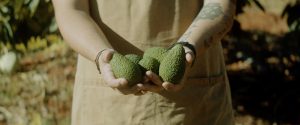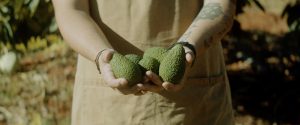 Avocados are packed with potassium, folate, magnesium, riboflavin, vitamin B6, C and E, nutrients thought to help ward off cancer, inflammation and depression and to assist digestion, blood pressure, heart and vision.
04
The bumpy texture of some varieties of avocados is the result of an evolutionary defense mechanism that allows wounds to the skin to be "corked off," resulting in pebble-like nodes in the pulp.
05
An important element of breakfast at La Granja, the avocado is picked and served as is, sliced onto toast—a perfect accompaniment for fresh Ibizan eggs—while the leaves are pressed to make oil.
06
"Usually all the people use olive oil, but there's more stuff you can use around the Mediterranean Sea, like the avocado leaf oil," said Diego. "It's like giving people this special touch."
07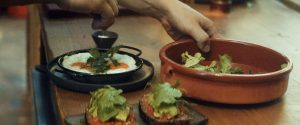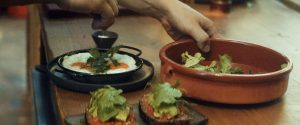 "You can feel it and see it in the garden and have a different taste of the product," said Diego. Anything that isn't used in the kitchen is composted. "So it's like a round process where everything is going back to the same place."
Contact
Berlin
Zur alten Flußbadeanstalt 1
10317 Berlin, Germany
003468950988
LISBON
Rua Dom Francisco de Melo 15
1070-085 Lisbon, Portugal
00368870043
GENERAL inquiries
inquiries@slowness.com
PRESS & PARNTERSHIP
press@slowness.com
Reservations
reservations@slowness.com
CONTACT
hello@slowness.com